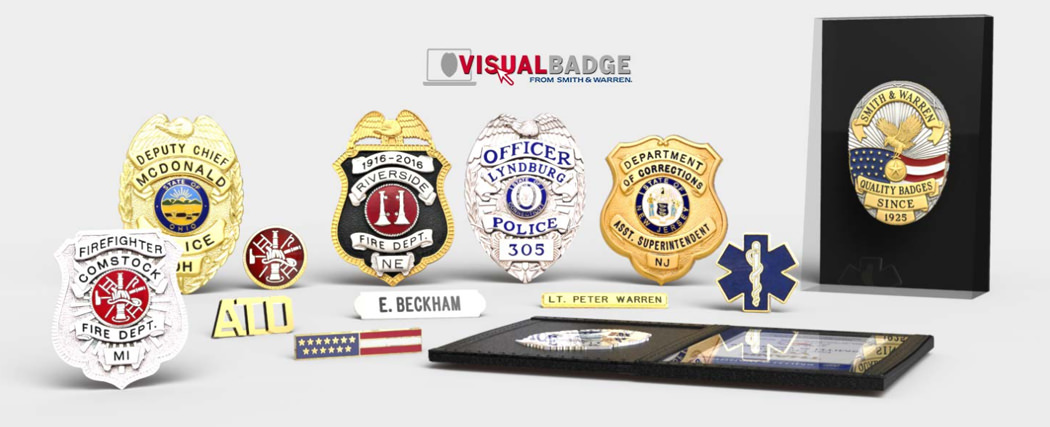 Agent Gear USA is a proud authorized national dealer for Smith & Warren.
---
Smith & Warren has been manufacturing badges and uniform insignia in the United States since 1925. Every badge is manufactured in a technologically advanced secure facility located in White Plains, NY.
About the process:
Design: Smith & Warren's creative art department works with customers to develop a custom badge to their exact specifications. Whether developing a custom center seal or a completely custom badge Smith & Warren can take an idea and make it a reality. Don't see a design you like from out 1000+ styles? Contact us to design your own!
Die & Tool Design: Smith & Warren employs the finest tool and die makers in the country. They combine modern technology and traditional craftsmanship to deliver highly detailed dies and tools at an affordable cost.
Metal Stamping: All parts used in the assembly of a Smith & Warren badge are stamped on premises in a safe and efficient environment. All stamping presses are outfitted with the latest safety and quality control technology to insure that your badges are consistently produced to the highest quality standards.
Engraving: Smith & Warren badges are engraved on state of the art CNC equipment by highly trained personnel. Every badge is triple checked for accuracy and appearance of engraved lettering.
Assembly: The assembly of a Smith & Warren badge is all done on premises. The soldering, enameling and polishing staff includes top professionals from the famed NYC jewelry industry. Every badge is hand crafted by these skilled artisans, carefully inspected and held to the highest quality standards in the industry.
Metal Finishing: The finishing is all done on premises in a state of the art electroplating facility. The latest equipment is used to finish badges with a uniformly thick and durable precious metal coating. Smith & Warren is the only badge manufacturer that offers a FULL LIFETIME WARRANTY on all metal finishes.
Quality Control: Badges pass through numerous rigorous quality control stations throughout production. Prior to shipment each badge is carefully inspected by hand for quality, accuracy and completeness so your new Smith & Warren badge is exactly what you ordered.
Customize Online: Create custom badges in just a few simple steps with the proprietary Visual Badge Builder application.